WHO WE ARE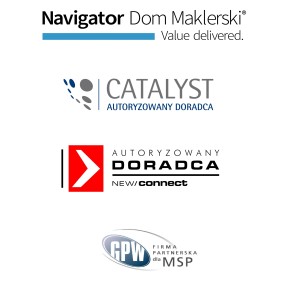 Navigator Brokerage House is a team of specialists with many years of experience. We focus on raising capital for medium-sized and large companies on the capital market.
We offer a comprehensive range of services in the public and private issue of shares and bonds by raising capital from OFE (Open Pension Funds), TFI (Investment Funds Companies), Asset Management, insurance companies as well as high net worth individuals.
Our team has completed over 30 transactions on the Warsaw Stock Exchange (IPO, SPO, reverse acquisitions / mergers) with a total value of over PLN 3 billion and more than 75 bond issues with a total value exceeding PLN 1 billion.
We are also an Authorised Advisor for the NewConnect and Catalyst and the Warsaw Stock Exchange Partner Company for SMEs.
We act as an Authorised Advisor for:
Blirt S.A., Jujubee S.A., Milestone Medical Inc. – NewConnect market
Everest Capital Sp. z o.o., Griffin Real Estate Sp. z o.o. – Catalyst market
WHAT WE DO?
We thoroughly carry out transactions to raise capital through the issue of shares or bonds. As a result of long-term experience in transaction advisory and up-to-date knowledge of investors' expectations, we can set out the clients the optimal transaction conditions as regards their financial situation and capital needs.
We coordinate the entire process of preparing and raising capital and, at a later stage, advise companies how to operate on the public market (NewConnect / Catalyst / Warsaw Stock Exchange regulated market), how to build the company value by corporate finance advisory, M&A transactions, additional funding, business consulting, support in reporting obligations and investor relations.
SHARE ISSUE (IPO / SPO)
Navigator Brokerage House and Navigator Capital provide comprehensive services of organising financing through share issue. We carry out pre-IPO (private placement), IPO (initial public offering) and SPO (secondary public offering) transactions – Warsaw Stock Exchange / NewConnect.
Services concerning preparation and operation of the share issue:
advisory on preparing the company for the issue (i.a. structuring capital ties, preparing financial projections, valuation of the company)
advisory on adapting the corporate governance rules
determination of detailed structure and conditions of the offer
preparation of the securities note for potential investors (prospectus / investment memorandum) and investment presentation
preparation of share issue / sale principles and identification of groups of potential investors
construction of sales consortium
preparation of analytical report
organisation and carrying out of pre-marketing offer
organisation and carrying out of road show and book building
subscriptions, offer settlement and allotment
conduct of proceedings in KNF (Polish Financial Supervision Authority), GPW (the Warsaw Stock Exchange) and KDPW (the National Depository for Securities)
advisory on fulfilment of disclosure obligations imposed on public companies
Navigator Capital as an Authorised Adviser on NewConnect offers the following services:
preparing the company to operate on the NewConnect market (including training on reporting obligations)
preparing information document to admit shares to trading on the NewConnect market
representing the company at GPW (The Warsaw Stock Exchange) and KDPW (The National Depository for Securities)
submitting required declarations to admit the shares to trading on the NewConnect market
collaboration with the company regarding the fulfilment of disclosure obligations and operation on the NewConnect market
advising on the transfer of shares from the NewConnect to the Warsaw Stock Exchange regulated market
BOND ISSUE
Navigator Brokerage House and Navigator Debt Advisory offer comprehensive services in the field of corporate bond issue. Thanks to our long-term experience we are able to assist our customers in selecting the optimum conditions of the transaction. We run the issue of bonds and advise customers after the issue in terms of contact with investors, KDPW, GPW and BondSpot. We have been associated with the corporate bond market since the beginning of Catalyst.
Our services include in particular:
complex conduct of bond issue
acting as the offering agent
acting as an issuing agent in KDPW, and providing record keeping and depository services
introducing bonds to trading on the Catalyst market
advising on disclosure obligations
preparing analytical reports on bonds
brokerage in the sale of bonds
Corporate bonds, as a source of financing, provide tangible benefits to companies, while listing on the ASO Catalyst (Alternative Trading System) increases the investment attractiveness of bonds and the company recognition. Due to their conditions flexibility and the fact that bond placement is a relatively quick process, corporate bonds offer a valid alternative to bank financing. In cases of private, unsecured bond offering, the time for raising capital by the company may amount to 4-6 weeks.
Benefits of bond issue:
diversification of funding sources – an additional source of capital
the leverage effect
independence from bank financing
no loss of control over the company
flexibility of conditions in relation to bank financing
possibility of issuing unsecured bonds
relatively short period of raising capital
The benefits of bond trading on ASO Catalyst:
access to a wider range of investors
current valuation of financial instrument for investors
increased credibility and transparency of the company
facilitating capital raising in the future – also in the form of a share issue
limited disclosure obligations
company promotion and growth of prestige
the possibility of trading bonds issued by Sp. z o.o. (limited company) and SKA
OTHER SERVICES
Navigator Brokerage House also provides additional services related to capital market transactions such as:
ADVISORY
advisory on fulfilling disclosure obligations by public companies (GPW, NewConnect, Catalyst)
determining pathways of investment exit by the major shareholders / founders of public companies
advisory on organising option and incentive programs (SOP)
advisory on reverse acquisitions / mergers of public companies
RECORDS OF SECURITIES
registering securities in KDPW and acting as an agent / issue sponsor
record keeping and depository services concerning all kinds of the financial instruments including bonds, shares and derivatives
BROKERAGE
brokering in buying and selling securities, including support in block trades
accepting, transferring and executing orders on the private market
arranging accelerated book building transactions (ABB)
coordinating and advising on tender offers for shares